Western Nevada College News
WNC Career Fair Brings Businesses and Students Together
By pr@wnc.edu | Sep 14, 2023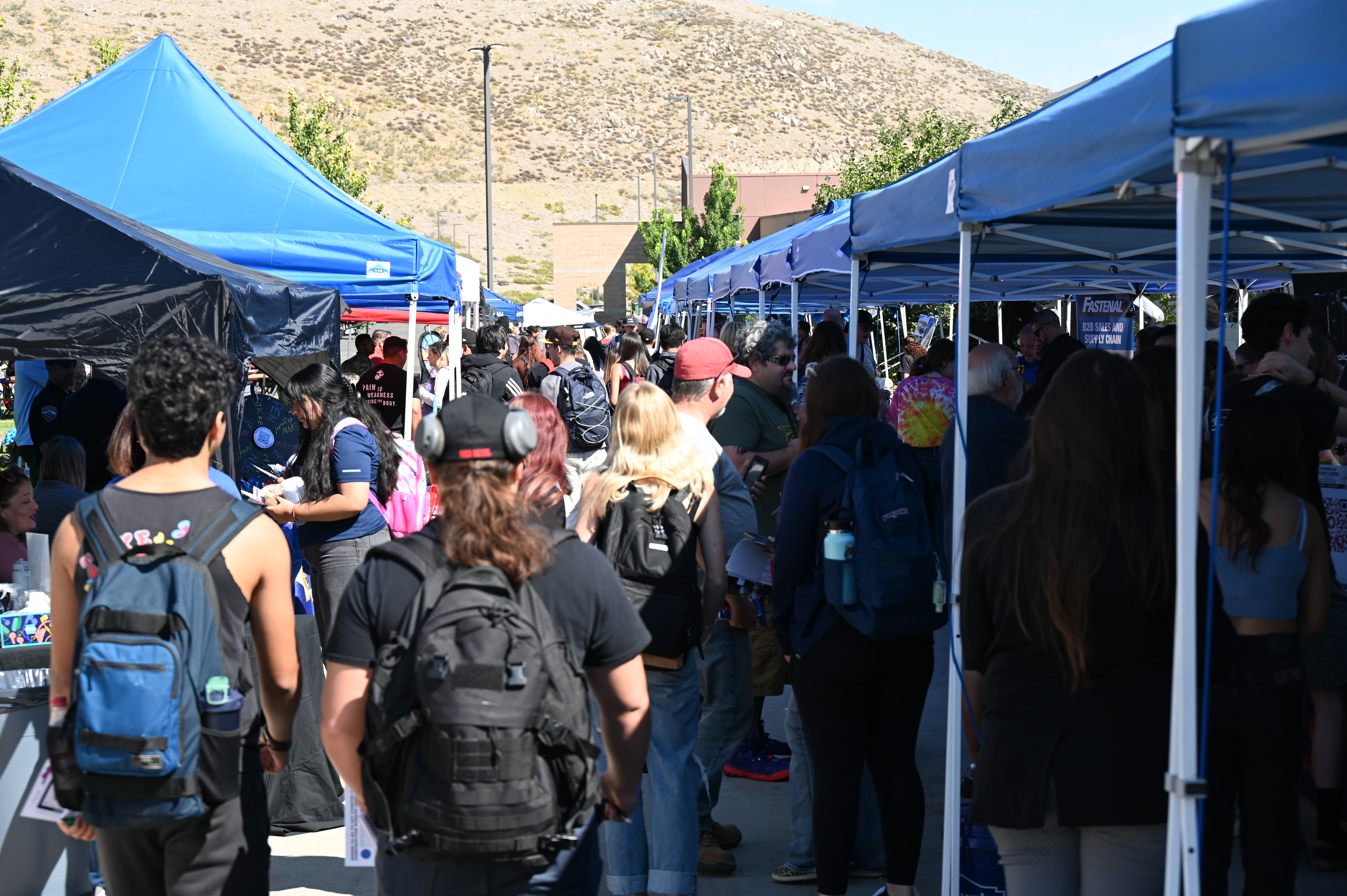 Western Nevada College and area high school students participated in the ROADS Workforce Career Fair and Workshop on Wednesday on the Carson City campus. Students gained valuable skills networking with local business leaders. They practiced their interview skills, developed or improved their resumés and discovered new career opportunities.
The three-hour event was presented by the Realizing Opportunities for the American Dream to Succeed (ROADS) program, which is a collaboration between WNC and the Nevada Department of Employment Training and Rehabilitation (DETR) with a goal of supporting students while they gain skills and certifications that lead to meaningful employment.
"We want to thank all of the businesses in the community and our students for participating in this important workforce training event," said WNC President Dr. J. Kyle Dalpe. "Career Fairs provide our students with an edge and give them insight that can only enhance their chances of finding the right employment fit in their futures. Businesses also benefit from meeting and getting to know our students for possible future employment candidates."
More than 40 area employers participated in the event, providing students with a well-rounded market to explore.
Josh Billings, assistant principal at Carson High School, spends part of his time working with students in the school's CTE program. Some of those students were able to participate in the Career Fair.
"We're hoping to build partnerships with employers here that are meeting their needs as well as well as meeting our students' needs," Billings said. "That could be internships, apprenticeships or even a job right now. It also might be a job for their future, making sure that a student in high school knows what those benefits are and what the opportunities are to grow with that company for the immediate future and long Term."
Stacey Gomes, a supervisor of people operation at Click Bond, represented the family-owned business to interested students. She said the manufacturers of fasteners for aerospace and defense are looking for "folks for entry-level production clear up to director of manufacturing."
WNC appreciates the Career Fair participation of The Reno Orthopedic Center, Greater Nevada Credit Union, Stellar Snacks, Briggs Electric, JOIN Inc., Fastenal, Q&D Construction, Chromalloy, Click Bond, University Police Department, Quick Space, Johnson Plumbing, Carson Tahoe Health, America First Credit Union, Carson City School District, United Federal Credit Union, Baker Hughes U.S. Army, U.S. Marines, PFP Construction, Carson Valley Health, Helix Electric, Carson City Public Works, TLS, Basalite Concrete Products, Jiffy Air Tools, Redwood Materials, Silver State Government Relations, Aqua Metals Inc., UPS, CGI, Northern Nevada Electrical Training Center, Carson City Fire Department, Nevada Builders Alliance, City of Fernley, EmployNV, Carson City Sheriff's Office, Ormat Technologies Nevada, SeneGence, Hustle Partners, Plumas Bank, Rocket EMS, WNC's Nursing and Allied Health, Arch Precision, and the Office of Senator Catherine Cortez Masto.
ABOUT ROADS
The Western Nevada College ROADS program is funded through the Department of Employment, Training and Rehabilitation (DETR), serving unemployed and underemployed Nevadans. Through the program students receive financial support for tuition, training, certifications, testing, transportation, housing assistance, childcare, books, materials and/or supplies. This support allows students to qualify for positions that are in high-demand occupations and industries. For more information about WNC's ROADS program, go to wnc.edu/roads.